HOME >> MOLES
PestExpel® scissor claw moletrap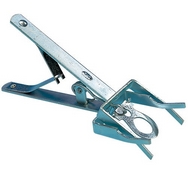 enlarge image
THE TRAPS USED BY PROFESSIONALS AND TRADE
The scissor mole trap is a traditional trap.

Effective in mole pest control, stop and get rid of moles - mole killer

Quick and easy to set in the mole run.

The handle ends of of the scissor trap are left showing above the ground and these then snap apart when you have a mole catch.

Mole traps should always be handled with extreme care.