HOME >> RAT | MOUSE
Rodent Defense - Small Animal Deterrent 0.9L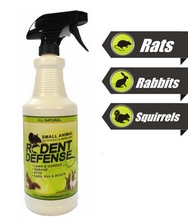 enlarge image
All Natural - No chemicals, toxins, or poisons and is safe to use around your kids and pets

Deters by Smell, Touch and Taste - A proven 3 part formula that targets each of the small animal and rodent senses.

Last Longer - Last up to 30 days when sprayed outside and can last even longer when sprayed indoors.

Contains Peppers, Natural Predator Scents, and Peppermint Oil for small animal and rodent control

Made by Professional Exterminators - Created and tested by a team of experts so you know it works!